About Bob Deraney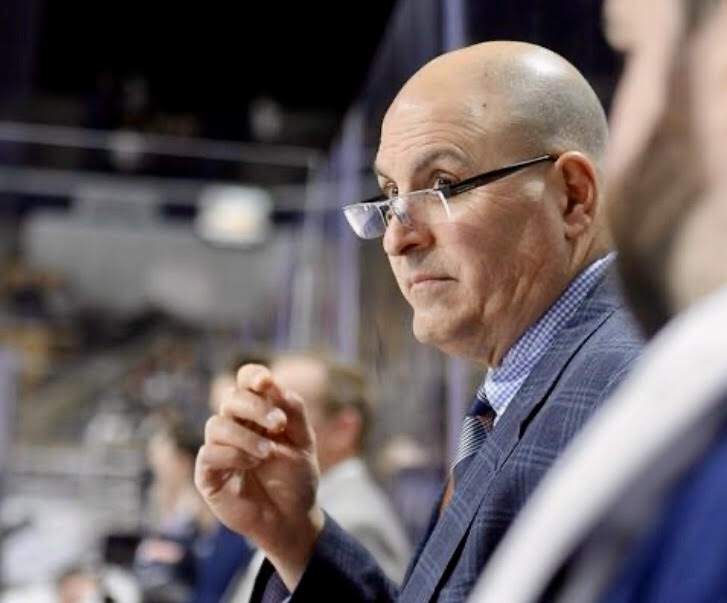 Bob Deraney, currently working as an assistant coach for the ECHL Worcester Railers, is one of the most dynamic and successful hockey coaches in America. Coach Deraney, has 20 years of head coaching experience. He recently coached in the Canadian Women's Hockey League with the KRS Vanke Rays, with the Kontinental Hockey League's Kunlun Red Star, South African Men's National Team and the IIHF. He has also coached in the NCAA with 4 Division I college hockey programs. Coach Deraney also has extensive experience coaching both women and men at all levels, from youth to national teams to pros.
In his 19 seasons with Providence College, Coach Deraney maintained a level of excellence that the hockey program had experienced over the last 45 years. The Lady Friars won 7 league championships during his 19 seasons. Coach Deraney was named Hockey East Coach of the Year in 2010, 2011 and most recently 2017, coached 5 Olympians and 7 All Americans.
In addition to coaching with the Worcester Railers, KRS Vanke Rays, Kunlun Red Star and at Providence College, Deraney has also coached various other collegiate teams and USA hockey programs.
Professional Hockey Organizations
Worcester Railers - ECHL
Kunlun Red Star - KHL
KRS Vanke Rays - CWHL
Division 1 Women & Men College Programs
Providence College Women
University of Massachusetts at Amherst Men
Dartmouth College Men
Northeastern University Men
USA Hockey Programs
2016 Head Coach of the USA Women's U22 Team
2015 Gold Medal USA Women's World Championship Team Coaching Staff
2008 Gold Medal USA Women's U18 World Championship Team Coaching Staff
1989-present, USA Hockey National Men's and Women's Player Development
1998 Men's USA Select Team Staff
1998 USA Women's National Camp
1996 USA Men's World Junior Team Staff
Build Your Game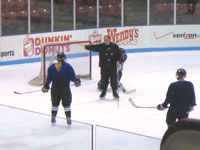 To be the best hockey player you can be, concentrated summer training from outstanding professional coaches is a necessity.
Deraney Hockey Camps will teach you to become fitter, stronger, faster, more skillful, smarter and more important to your team next year.
These camps offer a positive learning environment through which you can focus on improving your skills and increasing your hockey knowledge.
You will work to become a better all-around hockey player through high speed skill development as well as training in the fundamental skills of skating, stickhandling, shooting and passing. You will also be coached in the fundamentals of offense/defense as well as team concepts.
Our staff/player ratio is low and our coaches are experienced in delivering a first rate instructional program. They love hockey and everything the sport offers to young athletes - discipline, self-confidence, teamwork, sportsmanship and FUN.
About Our Facilities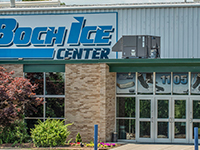 The Boch Ice Center offers a first class facility with 2 rinks, one full size rink and one mini rink as well as strength and conditioning facilities. Players will practice at this facility.
If your camp provides an overnight option there will be supervision 24 hours a day. Evening activities would include movie night, skit night and make your own sundae night.
Programs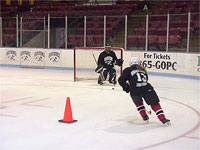 There are three programs available at the Bob Deraney Hockey Camps.
For Overnight Camps there is a General Skills Program which offers fundamental skill development in all areas - skating, stickhandling, passing, shooting, hockey concepts and team play and an Elite Program which is limited to 30 skaters and is available to players with at least 6 years of experience in competitive play. The Elite Program offers an intense and advanced program of high speed skill development, advanced hockey concepts and team strategy. It provides players with the speed, skill and hockey knowledge necessary to play hockey at the highest levels.
Regardless of the Overnight Program selected, all players are on-ice for a minimum of three hours per day. The off-ice program includes plyometrics, hockey-specific drills and exercises to enhance speed, agility, quickness, flexibility and teamwork.
Our third program is weekly skill sessions that focus on all aspects of player development and makes sure you are prepared for your next hockey season.
Our hockey camps also offer specialty instruction geared towards goaltenders on and off the ice.